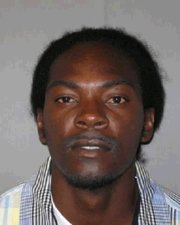 A Lawrence man charged with attempted first-degree murder allegedly held a gun to his girlfriend's head as she told the victim to meet him at a park where the shooting occurred, according to prosecutors.
More charges are expected against JD Turner, 34, who is accused of shooting Anthony Wisdom five times in the early morning hours of Feb. 14 at LR "Dad" Perry Park.
Turner returned Wednesday to Douglas County District Court, where Judge Michael Malone increased Turner's bond to $350,000 in anticipation of further charges.
Assistant District Attorney Amy McGowan said she planned to file additional charges of criminal carrying of a firearm by a convicted felon and aggravated assault, while providing more information about the events leading up to the shooting.
McGowan said Turner shot Wisdom five times over a dispute involving Turner's girlfriend. Turner allegedly also battered his girlfriend prior to the shooting, McGowan said, holding a gun to her head while she instructed the victim to meet Turner at the park.
Police responded to the shooting at 2:15 a.m. and arrested Turner after a car stop near the intersection of 23rd Street and Harper Street before 3 a.m. Police said Wisdom, whose name was identified in court on Wednesday, helped provide information about Turner's identity and the car he was driving.
Wisdom was airlifted to Stormont-Vail Hospital in Topeka with serious injuries. A hospital official said that Wisdom was discharged on Tuesday.
Turner, who has prior convictions in Douglas County for narcotic possession and sales, is next expected in court for a preliminary hearing on March 5.
Copyright 2015 The Lawrence Journal-World. All rights reserved. This material may not be published, broadcast, rewritten or redistributed. We strive to uphold our values for every story published.